On June 11, 1933, a Pillar of Fire appeared while William Branham was baptising in the Ohio River. A voice spoke from the light, and said
"As John the Baptist was sent to forerun the first coming of Christ, your message will forerun the second coming of Christ."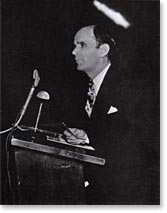 His ministry has been recognised around the world as one of the greatest ministeries since the time of Christ. God has always spoken through prophets and William Branham's ministry has been utterly vindicated through many signs, miracles and discernment.
This ministry was prophesied to return in the last days
(Mal 4:5-6)
as this age is written as being wretched, blind and Naked
(Rev 3:14-18)
. The mighty works that were fulfilled, and the fact that the discerning of thoughts never ever failed with William Branham, is indicative that God has appeared in His church in these last days
(Deu 18:21-22)
.
Lee Vayle spent many hours with William Branham and is a faithful teacher of the doctrine God gave His Prophet...
"And if there's anything you lack of understanding, something that you do not understand, my associate Brother Vayle here, is available at all times to explain anything that seems mysterious to you ministering brethren"
[58-0323 Jesus Christ the same...]
This site is therefore dedicated to the prophetic ministry of William Branham and the teaching ministry of Lee Vayle.
When you open a book through the open book navigator or through a search result you can close that book by EITHER clicking on the red X in the top right hand corner of the book, or the small x in the left hand navigator.
Most books can be opened in the formats
ePub
and
PDF
.

ePub
iPod, iPhone & eReaders. (
Download ALL WB ePubs
)

PDF
Portable Document Format (
Get Adobe Reader
)Lee Vayles books available in Kindle format (
Download
) This site is dedicated to the prophetic ministry of William Branham and the teaching ministry of Lee Vayle. I pray that it will be a blessing to all those wishing to study God's Word.
This site currently hosts the following material...
Note: For Lee Vayle's MP3's, please visit www.leevayle.net and for William Branhams free list of books and MP3's visit www.thefreeword.com.
Identification: #14 Placing Yourself In The Bible (Ephesians 1) P:45
This message tonight, if anybody wants it, is public domain. You don't say, "Brother Vayle, can I copy your sermon? Can I preach it?" Well, you'd be stupid if you did. Be my guest. There's nothing I can do about it. It's public domain. Everything Bro. Branham said is public domain. Everything Paul said was public domain. In other words the public owns it. See? So all right.
When God said it, it was public domain, and the devil took it and preached it. Yep! He said, "Now you've got a misunderstanding here. Death doesn't mean what you think it means because you won't surely die." He might have said, "Hey, isn't this a fact that you and Adam are literal children of God? Can God die? Could God procreate a child that could die? Come on! You know God." I'm just saying he could've said that; and he'd been right too, because eternal things cannot die. There's a part of us that was eternal. That's our souls.
Everything you need to do for opening books and searching is available on the
LIBRARY
tab. It is recommended to look in the
HELP section
to learn how to improve your searches to get the best results. To open a book, simply select the library you are interested in from the Open Book Menu on the left hand panel. From here you can select a book to open by clicking on the books title. Initially you will be provided with a list that includes all books for that library sorted by Category and date (or tape number for William Branham's messages). You can refine the list by selecting a single category from the drop down list on the right. As soon as the change is made the results will be updated. You can further refine the list of books by typing words that you require to be in the title. As you type, your changes are updated.
To search simply type your request in the box in the top right of the page, select the search type (defaults to Standard) and select the Library you want to search (defaults to William Branham) and then click on GO. You can choose if the search is to be STANDARD, ALL WORDS or EXACT. Standard search behaves like a "google" search (see
here
for help on search). EXACT searches will look for the specific phrase you typed and ALL WORDS will return results for only those occurences where ALL the words exist in the paragraph.